[Translate to Englisch:] Dr. Anja Rosen, hat mit ihrer Forschungsarbeit, dem Urban Mining Index, die DGNB Sustainability Challenge und der Green Solutions Awards Deutschland in der Kategorie Forschung gewonnen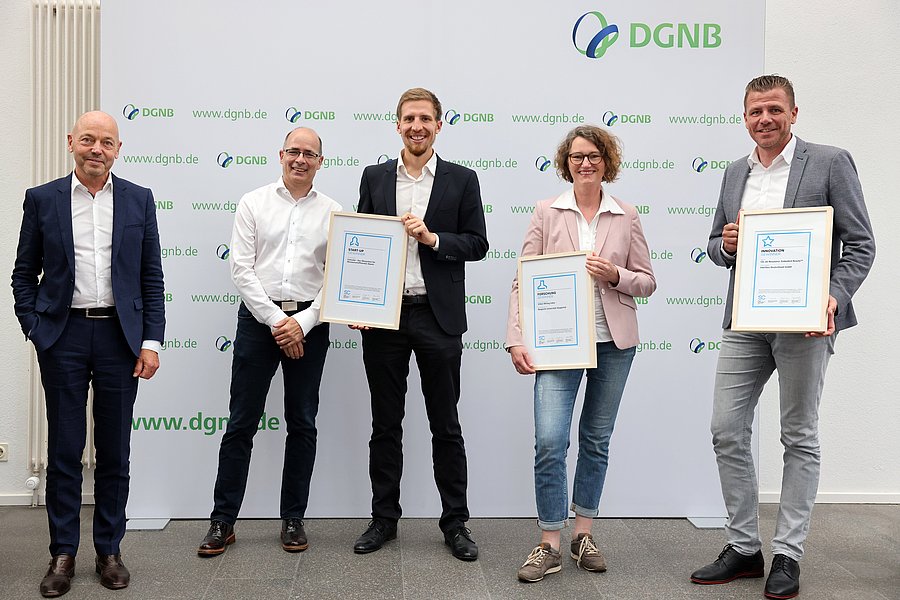 Mit dem im Rahmen ihrer Promotion entwickelten "Urban Mining Index" (UMI) gewann Dr. Anja Rosen die Endausscheidung. Mit in der Endrunde waren zwei große geförderte Forschungsprojekte: Das Projekt "Einfach Bauen" der Technischen Universität München sowie "ge3TEX" von der Frankfurt University of Applied Sciences. Dr. Anja Rosen hat mit UMI ein Planungsinstrument für das zirkuläre Bauen entwickelt. "Mit dem Wuppertaler Team des Solar Decathlon Europe (SDE) 21/22 wurde der Urban Mining Index jetzt zu einem anwenderfreundlichen Planungstool weiterentwickelt. Der UMI verfolgt das Ziel, Baustoffe in möglichst geschlossenen Kreisläufen zu führen und macht die Qualität der Nachnutzung von Wert- und Abfallstoffen in Gebäuden quantitativ messbar", erklärt die Wissenschaftlerin.
Erfahren Sie hier mehr über den Urban Mining Index.
Das Video zur Projektvorstellung gibt es hier.
Kontakt:
Dr. Anja Rosen
Lehrstuhl Baukonstruktion, Entwurf, Materialkunde
E-Mail: arosen@uni-wuppertal.de