STUDIES/APPLICATION
Studies

The Bachelor of Science in Industrial Transport Engineering (B. Sc.) imparts scientific fundamentals, methodological competence and qualifications related to the professional field. With the first professional qualification, students are prepared for both company practice and further master's studies.
Application
The Vwing degree program is an admission-free degree program.
The admission requirement is basically the certificate of the general university entrance qualification or the relevant subject-related university entrance qualification or an admission based on the admission with vocational qualification or other certificates recognized as equivalent by the responsible ministry for university admission.
Admission to the program is only possible for the winter semester.
The necessary documents for online application and further information can be found on the following website.
Please note the specified deadline for online application for an admission-free study program: for the winter semester from May 15 - October 15 of each year.
BRIEF OVERVIEW
Degree: Bachelor of Science (B.Sc.)
Beginning: Winter semester
Duration: 6 semesters
Admission:
University entrance qualification (e.g. Abitur)
Open admission (without NC)
Course of studies and content
The Bachelor's program comprises 6 semesters of regular study period and has a modular structure (see module semester plan). In each semester, credits with an average of 30 credit points must be acquired in various modules.
The program is successfully completed when the candidate has acquired a total of 180 credit points in the modules required by the examination regulations. Knowledge is imparted in more than 20 individual modules.
In the in-depth studies, you can take subjects from the field of traffic engineering or economics according to your inclination.
A major focus of the program is on subject-related and interdisciplinary practical phases. This paves the way for later project work in professional practice.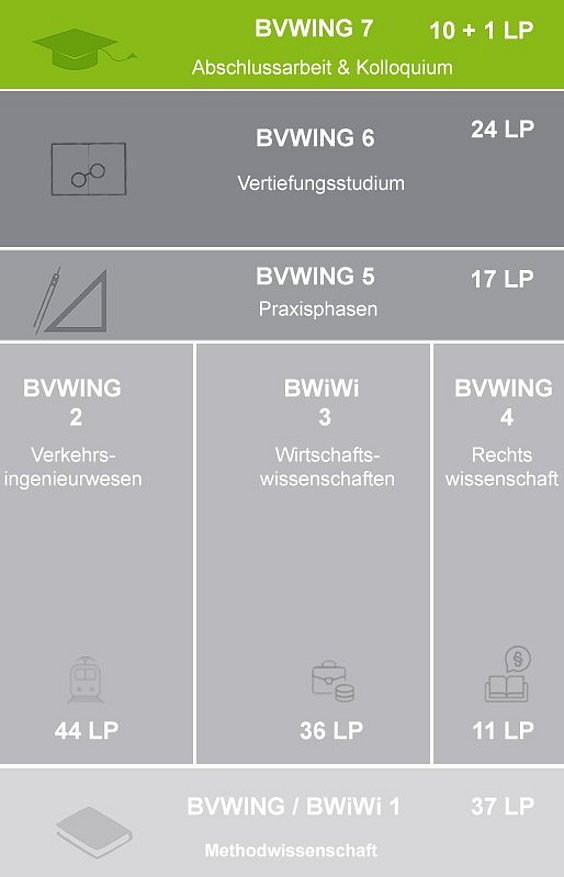 The program is finalized with the Bachelor's thesis, a scientific paper in which students are expected to demonstrate that they can independently and successfully work on a problem from the field of transportation engineering using scientific methods. The topics are often assigned directly with planners, transport companies, administrations or clients from the practice and are usually supervised interdisciplinary.
Quick links
Information regarding the study program Transport Engineering and Management (B.Sc.): B.Sc. - Studies flyer